We buy Vintage Cameras

CAMERATIQUE is interested in purchasing your classic vintage used cameras and lenses. If you have an item you wish to sell, please contact us via eMail or telephone us on +27(0)832611594, providing us with as much information as possible. If you can send us some pictures, this would answer many questions and put us in a better position to make you the best offer possible. The brands that interest us the most are : Alpa, Arriflex, Beaulieu, Bolex, Bronica, Cambo, Canon, Gitzo, Gossen, Hasselblad, Leica, Linhof, Mamiya, Metz, Minolta, Minox, Nikon, Olympus, Other, Pentax, Rodenstock, Rolleiflex, Sekonic, Sinar, Soligor, Uher, and Zeiss just to mention a few. We pay fair prices and we pay CASH.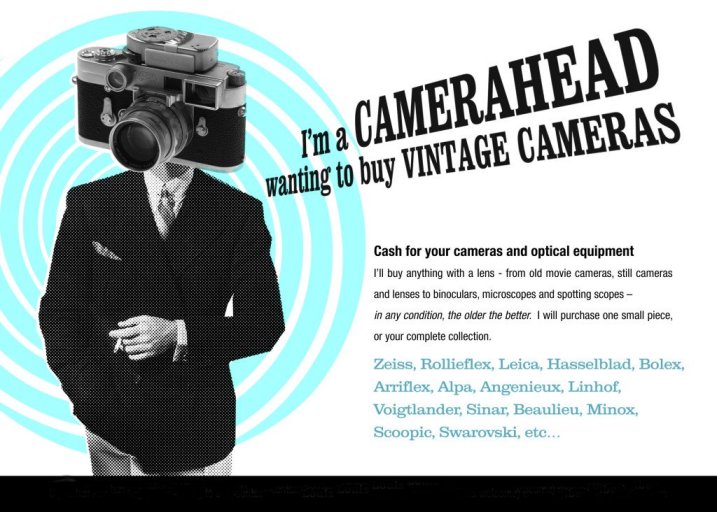 Looking to sell your vintage film cameras for cash? Look no further! We are actively seeking to buy vintage film cameras from all eras and brands. Whether you have a single camera or an entire collection, we want to hear from you.
We are passionate about preserving the legacy of film photography, and we believe that vintage cameras play an essential role in this mission. We specialize in buying all types of vintage cameras, from 35mm rangefinders to medium format SLRs and everything in between.

When you sell your vintage cameras to us, you can expect a fair and transparent buying process. We will provide a competitive cash offer based on the current market value of your camera, and we'll take care of all shipping and handling expenses.

So, if you have vintage film cameras gathering dust in your closet, don't let them go to waste. Sell them to us and put some extra cash in your pocket. Contact us today to get started!
---
There are no products to list in this category.